HP has acquired AWS partner and private cloud solution provider, Eucalyptus, in a deal valued under $100 million, and tapped its CEO to head their cloud division. This is an…interesting move. Eucalyptus was one of the early available options for private cloud deployment, built to be fully compatible with AWS APIs. With the rise of OpenStack and CloudStack alternatives, which boast much greater adoption and industry support, the Eucalyptus star has faded.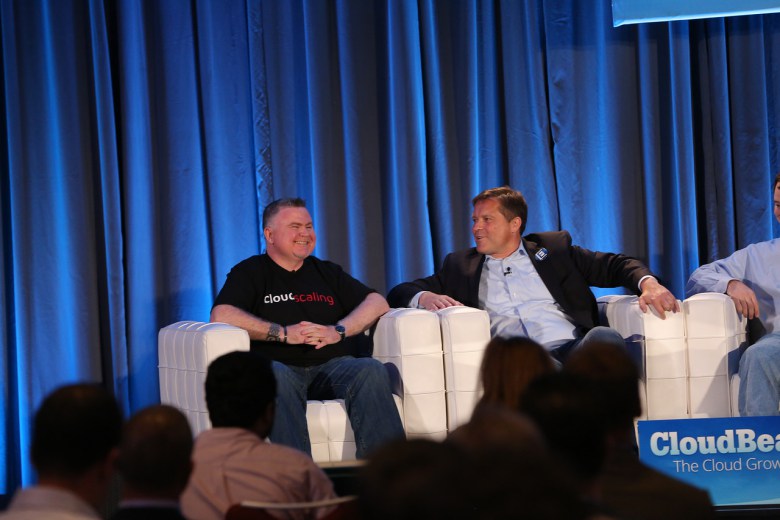 Eucalyptus chief executive Marten Mickos, right, at VentureBeat's 2013 CloudBeat Conference. Image Credit: Michael O'Donnell/VentureBeat
While AWS integration is not as strong for some of these open source options, it is growing. Most enterprise and service provider companies are using or exploring OpenStack, CloudStack, or VMware driven private cloud platforms.
What is HP's motivation here? They are fully committed to OpenStack with their Helion offering and can make use of the maturing AWS integration capabilities of that platform. It seems unlikely they would change course and offer Eucalyptus as a product. One wonders if HP could have acquired CloudScaling and its CEO, Randy Bias (pictured above with Eucalyptus CEO, Marten Mickos) whose OpenStack distribution (OCS) is built to be fully compatible with AWS to minimize post-acquisition integration.
The move certainly sheds new light on Mickos' recently expressed, newfound love of the OpenStack platform. It seems likely this was a high-end acquit hire (Marten Mickos + 70 employees, including Engineering and IP specialists in the interconnection of Private to Public-AWS cloud) + customer logo acquisition. The Eucalyptus CEO will be taking over leadership of the HP cloud division as its new SVP.
While AWS has frequently disclaimed any interest in dedicated, or on-premise private cloud, there have been indications to the contrary. Most notable was their win to build private cloud for the CIA. HP has eliminated one potential pathway for an AWS attempt to enter the on-premise space with the acquisition of the AWS partner most capable of getting the job done.
"Distributed systems engineers familiar with architecting cloud platforms are hard to come by," said Jesse Proudman, founder and CTO of Blue Box. "Through the acquisition of Eucalyptus, HP obtains an excellent engineering team with deep platform experience, but also a team who know the ins and outs of developing and maintaining AWS API compatibility. Further, it's a great defensive move to keep Amazon from entering the on-premises private cloud marketplace. Kudos to HP for this move."
Cloud talent is in short supply. Demand is huge.