You need a fighter by your side throughout the entire lifecycle of your connectivity, cloud, data center, CX and security technologies. We are not a reseller. We are not a supplier. You need a guide and advisor to ensure you get the best overall experience.
Maintaining old technologies creates risk. Technology change also creates risk. It's critical that projects are designed and implemented correctly the first time. StrataCore maximizes your chances for outstanding results.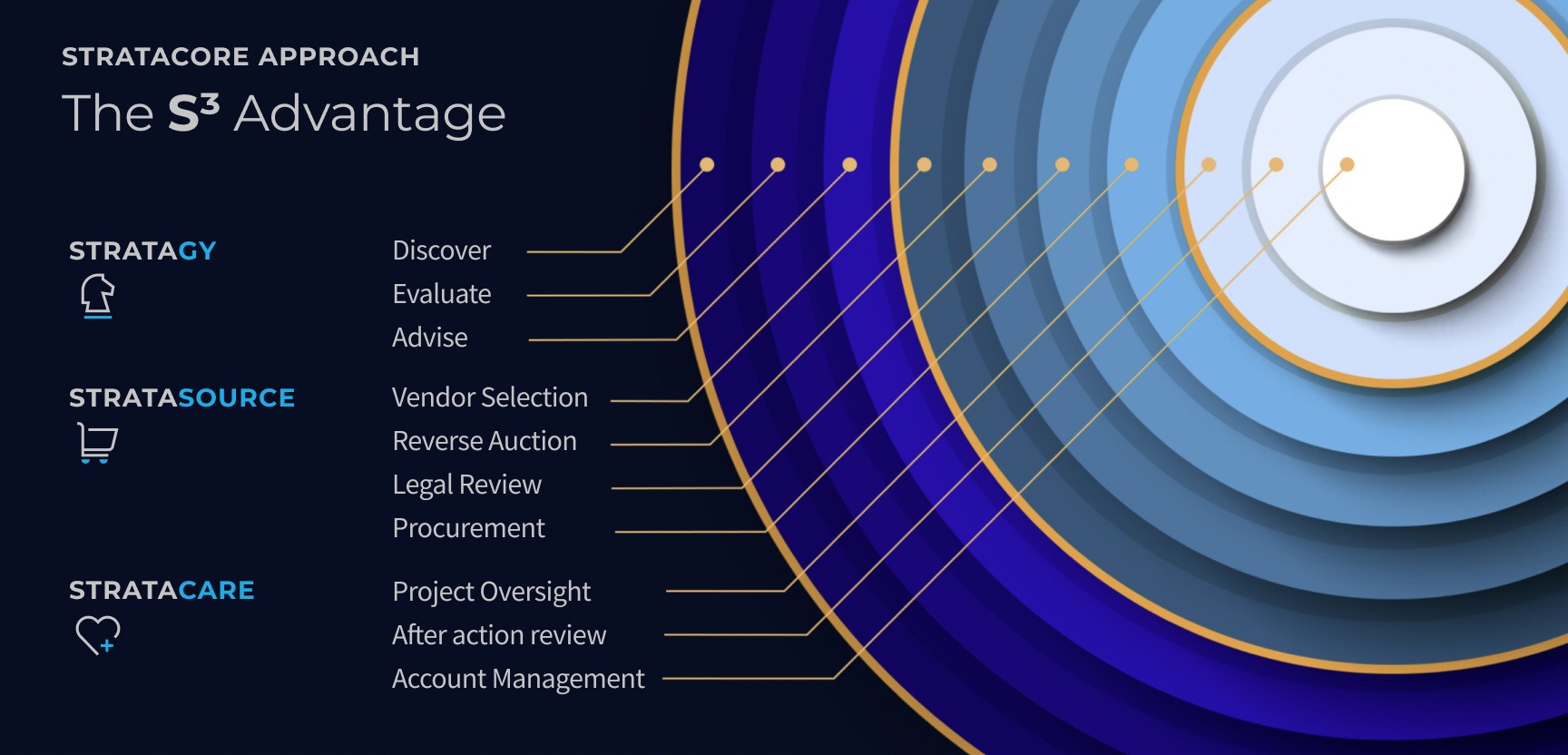 The S3 Advocacy Advantage
Our proprietary process covers every stage of your technology lifecycle.
We
work
with you to develop a roadmap for your technology transformation.
We help you identify, evaluate, and acquire new cost-effective technology solutions.
We support your technologies and team throughout the life of the solutions.
Why do you need an IT Advisor?
There are many pitfalls to navigate when managing technology change. You need a partner that has deep experience with the technology providers.
StrataCore fights for your best interest at every stage of the lifecycle to ensure your projects are a success.
We know the technology solution landscape and which technologies are viable and vetted.
We have 50+ technical subject matter experts to design the best solution.
We know the providers and players in the industry. We know who is performing and who is not.
We know industry pricing benchmarks and what levers to pull to get the best deals.
We have in-house legal support to help you navigate the provider contract terms.
We hold providers accountable to milestones and deadlines to ensure smooth implementations.
We validate accuracy in service delivery and rates and ensure SLAs are met.
We know how to get the best support and the fastest escalations.
We maintain the big picture view of your roadmap and infrastructure to advise for the future.
Gain a deep understanding of the suppliers in the technology marketplace.
Introductions to niche suppliers you never knew existed.
Detailed side-by-side analysis comparing supplier's technical capabilities.
Detailed side-by-side analysis comparing suppliers' pricing.
Reduce the time to evaluate and compare suppliers by 80%.
Augment your team's capabilities.
Reverse auction methodology to ensure best pricing.
Better legal terms in your vendor agreements.
Traverse common pitfalls with ease.
Unlike service provider sales representatives, StrataCore does not receive a base salary from the suppliers. We also don't receive an upfront commission. We earn a small residual payment from the carriers for the term of your service.
Ready to take your IT infrastructure to the next level? Talk to StrataCore today.