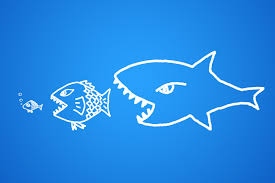 If you are running a company that has anything to do with security, big data, or IoT, you are looking pretty attractive to larger suitors right about now.
This year has been the jam packed with merger and acquisition activity; we've had the biggest run of M&A activity since the dotcom bubble. Companies in every industry are looking at digital transformation as the way forward into the global economy, and the companies that sell solutions to address this transformation are hot items.
Here is the rundown of acquisitions so far this year (with more to come, I'm sure):
IBM acquired Blue Box in major deal for private cloud service. The acquisition of Blue Box accelerates IBM's open cloud strategy making it easier for IBM clients to move data and applications across clouds and adopt hybrid cloud environments.
Cisco acquires Piston Cloud Computing. Moving to make it simpler to deploy OpenStack on both public and private cloud, Cisco announced it is acquiring Piston Cloud Computing.
Equinix, announced a partnership with Alibaba's cloud computing arm. Organizations can now obtain direct access to the Aliyun platform via the Equinix Cloud Exchange in either Hong Kong or Silicon Valley.
BroadSoft Acquires mPortal. The unified communications and collaboration company has added a customer experience product provider to its portfolio. The acquisition is expected to contribute approximately $4 million in incremental revenue for the remainder of the year.
Nokia to acquire Alcatel-Lucent for $16.6 billion. The former handset vendor leverages the proceeds of the of its mobile business to Microsoft in an effort to increase its presence in the Network Equipment space.

Intel buys Altera for $16.7 billion. The world's largest chip maker will pay $54 a share in cash for the maker of programmable logic semiconductors. Intel is seeking to contend with growth and rising costs, while trying to defend its most profitable business.

Avago is buying Broadcom for $37 billion. The acquisition of rival chip maker Broadcom is expected to close the first quarter of 2016. Broadcom makes radios for cell phones and other consumer devices, plus chips used in networking equipment for the data center. Both business segments could compliment Avago's more industrial and component-level activities.
Verizon buys AOL for $4.4 billion. The acquisition gives Verizon, which has its sights on entering the crowded online video marketplace, access to advanced technology AOL has developed for selling ads and delivering high-quality web video.
EMC to snag Virtustream in $1.2 billion. One of EMC's biggest worries is a trend for companies to move workloads running on premise-based storage to the cloud. Virtustream operates its own data centers to host such infrastructure, and sells data center software that companies can use on-premise to manage SAP.
Singtel acquires MSSP Trustwave for $850 million. Founded in 1995, Trustwave develops software that helps business ward off cybercrime and protect their data.
Proofpoint acquires Emerging Threats for $40 million. Emerging Threats' technology, including its open-sourced-based ETOpen rule set, will be integrated into Proofpoint's threat-protection platform.
HP acquired Voltage Security to bolster their encryption and data security business. Voltage's security products cover everything from payment to file to email encryption.
J2 Global's Excel Micro buys Nuvotera, an email security services company and cloud services aggregator for Managed Service Providers (MSPs) and Value-Added Resellers (VARs).
Equinix, acquired Nimbo, a professional services company that helps enterprises develop and implement hybrid cloud architectures.
Datapipe acquired GoGrid, an early pioneer in the IaaS space that recently pivoted to become a global leader in the big data arena.
Below is a link to our M&A posts from last year, just in case you are interested in reminiscing about the good ol' days.
Cloud Consolidation Continues – EMC Acquires Cloudscaling
Cisco's Intercloud eats Metacloud
HP Acquires Eucalyptus, and Marten Mickos