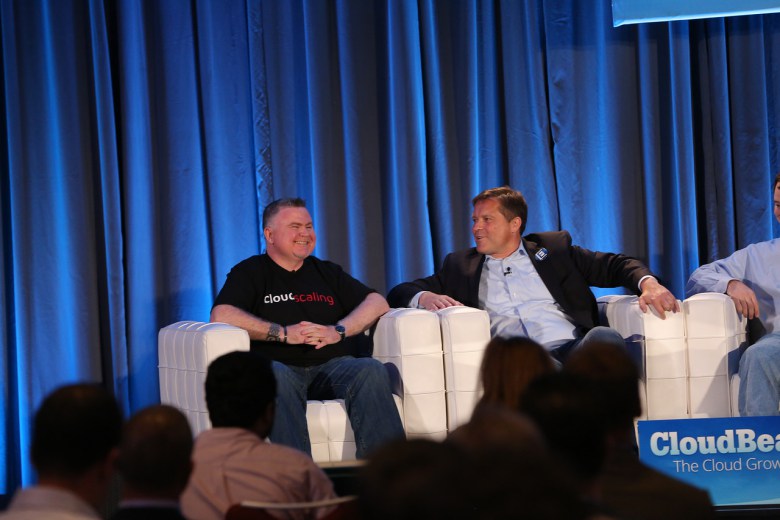 The great OpenStack Consolidation of 2014 continues as storage leader EMC agrees to acquire Cloudscaling for under $50 million (per Bloomberg).
Cloud M&A kicked off 2014 with Red Hat's $95 million acquisition of integrator eNovance. The above photo, which pictures Cloudscaling CEO Randy Bias (on left) should look familiar as we used it in last month's post about HP's acquisition of Eucalyptus and CEO Marten Mickos (also pictured, on right). Cisco's followup deal to buy OpenStack private cloud vendor, Metacloud, took place just a few weeks later.
EMC has been a part of OpenStack for a couple of years now, but not played a significant role, allowing their subsidiary VMware to lead that effort. This pushes their cloud efforts forward significantly by adding 30+ skilled cloud engineers to the payroll. Cloudscaling CEO Randy Bias is also considered a thought leader in the field and will provide instant credibility to whatever the EMC effort might be. EMC's website claims it will "Redefine Hybrid Cloud" on October 28th, so stay tuned. It does bring up some interesting questions regarding interplay between the EMC parent and VMware.
Cloudscaling was formed in 2006 and has focused on building scalable cloud architectures. Their recent efforts have resulted in an OpenStack distribution, Open Cloud Systems (OCS) that is "an enterprise-grade, ready to deploy OpenStack-powered private cloud solution that enables you to build Amazon-like capabilities behind your firewall." Among the capabilities are out-of-the-box interoperability with AWS APIs.
The ongoing consolidation leaves only a couple of independent distribution providers, Mirantis and Piston Cloud, and private cloud service provider Blue Box. It will be interesting to see how the dwindling of these independents effects the evolution of the OpenStack foundation and community.